LATE SUMMER CAN BE A TRICKY TIME FOR COLOR IN THE GARDEN
Here we are in the last couple of weeks in August. Summer is slipping away quickly. Before we know it, fall will be here and the time to plant mums and pansies for color. But, until then you may be wanting to add more color to the garden. What can be planted that will add fresh color to a garden this time of year? Here are a few suggestions:
CARYOPTERIS – "Bluebird shrub"
Beautiful light blue flowers this time of year.  A very hardy, woody perennial in many different varieties.  Birds and butterflies love this plant.  And, the flowers make great cut flowers to take inside.
ITEA virginica – "Sweetspire"
A great low maintenance, deciduous shrub for the sun or partial shade.  This is a native plant that grows to 3' by 3' and has fragrant flowers that butterflies love.  And, it is deer resistant.
ABELIA  –  "Glossy Abelia"
Edward Goucher is one variety of Abelia that is popular with its pinkish flowers right now. But, my favorite is Kaleidoscope. Kaleidoscope is an evergreen shrub with multi-colored leaves and tiny white flowers at this time of year. It will mound to about 3 feet by 3 feet. As we begin to cool down in the late fall the color becomes more vibrant red.
SEDUM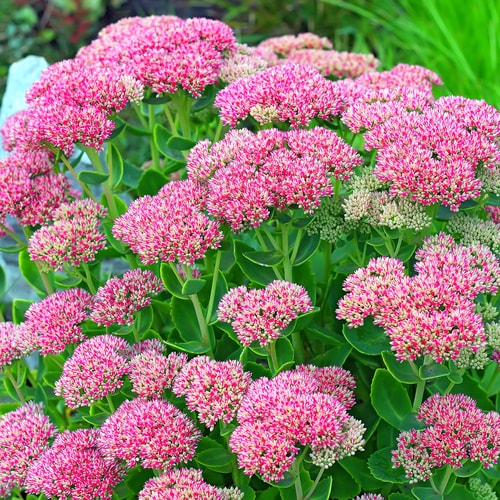 A great hardy, sun-loving perennial for our area. Sedum "Autumn Joy" is one that is very popular and coming into color now. There are many more varieties of sedums showing off with color.  And, as a bonus, our beloved bees and butterflies love the flowers on the sedum plants.
ALTHEA  –  "Rose of Sharon"
A very hardy shrub that is now in color.  It comes in different shades of white, pink, blue, and purple. All that Althea needs is to be planted in full sun with well-drained soil and plenty of space. Some varieties will grow to be 10' tall and just as wide.
YUCCA filamentosa "COLOR GUARD"
This plant takes the "yuk" out of yucca.  This is by far my favorite yucca with its showy variegated bright yellow and green leaves. This yucca is drought and deer resistant. It will grow 2' x 2' and needs to be planted in full sun with well-drained soil. Another unique characteristic of Color Guard is that the yellow color will tinge to pink as we begin to cool down for the fall and winter.
There are many more shrubs and perennials that I could have highlighted in this blog such as Crape Myrtles, Buddleia, and Callicarpa.
As you make your selection, just keep in mind how so many of these plants give our bees, butterflies, and other beneficial pollinators the needed support this time of year.
HAPPY GARDENING !!!!!!!