JUNE IS PERENNIAL GARDENING MONTH
You may be asking yourself, "What are Stepables and what does this have to do with June being Perennial Gardening Month?"
The quick answer is that Stepables are a series of hardy perennials that tolerate foot traffic.
To give you a little background information, the Stepables series was started over 25 years ago by a company called UNDER A FOOT PLANT COMPANY. The concept was to find fantastic plants that are durable, dependable, and tough.
The definition of a Stepable is perennials that are problem-solving, creeping perennials that alleviate landscape dilemmas.
We have carried Stepables for years now. Sandy's Plants have been a great reliable source.
As I mentioned earlier, there are many varieties of perennials that are grown as Stepables. For this blog, I want to highlight one variety that is a favorite of mine.
WHITE CREEPING THYME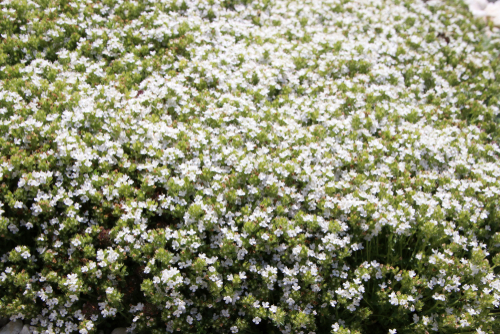 Thymus praecox 'Albiflorus'
LIGHT – FULL SUN
HEIGHT – 1" TO 2"
SPREAD – 10" TO 15"
HARDINESS – ZONES 5 – 8 ( We are Zone 7 here in Central Virginia )
White Creeping thyme is a very low-growing plant that can stand foot traffic. It spreads to create a dense mat of small, light green leaves that, when crushed, has a spicy fragrance. I chose the White Creeping Thyme to highlight because right now it is in full bloom with its tiny white flowers that cover the plant. It would remind you of snow on top of a plant. White Creeping Thyme is a versatile plant in that it can be grown between stepping stones, in a container, as a garden border, or on a slope to help with erosion.
PLANT A LITTLE HAPPINESS !!!!!!!!!!