FALL IS FOR PLANTING — Just because it is now late October and we are beginning to have some cooler days and nights, it doesn't mean your gardens or containers need to look lifeless now. KEEP PLANTING!!!
Here is a list of my top 5 favorite perennials for winter interest. As you read my favorites please take note that some of these perennials are evergreen through the winter.
AUTUMN FERN
Dryopteris erythrosora 'Brilliance' – Autumn Fern has always been loved as a tough evergreen fern. Matter of fact, I have four planted in my gardens. It is one of the most attractive ferns for the garden, as the leaves are dark glossy green throughout the summer and winter. Then, the new leaves emerge each spring with rich bronzy-red leaves that later turn to bronze and then green again. Plant in part shade to light sun.
YUCCA filamentosa 'COLOR GUARD'
This plant takes the "yuk" out of Yucca. In my opinion, it is by far the showiest variegated yucca on the market, showing bright yellow centers throughout the year.  In the winter the yellow will add a tinge of pink.  It is drought and deer tolerant.  Very versatile, it can be used in containers, flower borders, or desert gardens.  Plant in a mostly sunny location.
HELLEBORES
Sometimes referred to as Lenton rose or Christmas rose. This evergreen perennial is unpalatable to deer and voles. You can use this perennial in mass plantings, ground cover, or mixed borders. Also, it makes a great container plant for those containers that have winter interest. The flowers appear in mid to late winter and will last until May. There are hundreds of varieties to choose from. You want to plant in well-drained organic matter soil in part sun to shade location. One tip to share: cut the foliage back in the fall to make blooms show off better.
HEUCHURA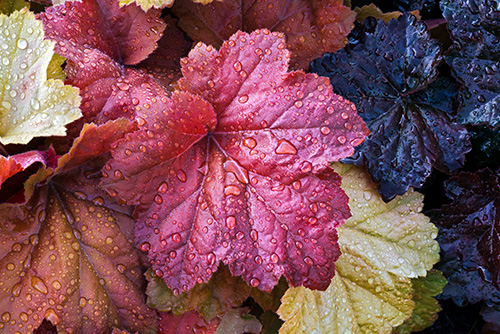 Sometimes referred to as Coral Bells. I love this perennial. There are so many varieties to choose from that have beautiful leaf colors ranging from dark burgundy to light chartreuse. All heucheras will have a small spike flower that adds more interest to this evergreen perennial. It has an array of uses and is great in container gardening. Heucheras are low mounding in their growth habit. Plant in well-drained organic soil in a partially shaded location. Once established, heucheras are drought tolerant. More people kill heucheras with overwatering.
PEROVSKIA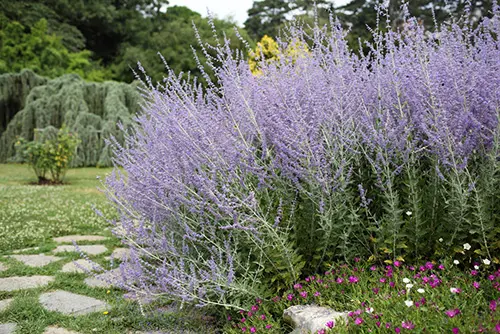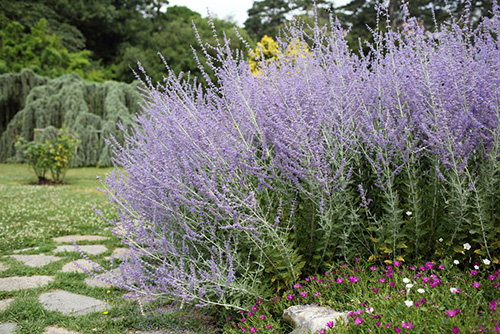 Commonly referred to as Russian Sage. This is NOT an evergreen perennial. But is still one of my all-time favorite perennials. Russian Sage offers great winter interest with its silvery-blue stems sticking up in the air and adding movement in the landscape with the wind. Russian Sage has a beautiful, light blue flower in the late summer and early fall that complements its finely cut silvery foliage. This light blue flower is great with fresh flower arrangements. Plant in full sun and is very drought tolerant.
Those are my top five perennials. This list has not changed much over the years.
PLANT A LITTLE HAPPINESS!!!!