FALL IS FOR PLANTING  –  HERE WE ARE IN THE LAST WEEK OF OCTOBER AND IT IS STILL A FANTASTIC TIME TO BE PLANTING.
For most of us in this area, we have yet to have a killing frost. Our average first frost of the fall is around October 20. We have plenty of time to still be planting. Also, another important factor in this planting season is our soil temperature. Even though we have had some cool night temperatures, our soil temperature is still sitting at 60 degrees. With this soil temperature along with some good rainfall, the fall planting season is at its best right now. So, don't think it is too late to plant just because November is just around the corner.
Last week my blog was on some of my favorite perennials for the fall. Now, I want to highlight my top five shrubs for winter interest.
CAMELLIA sasanqua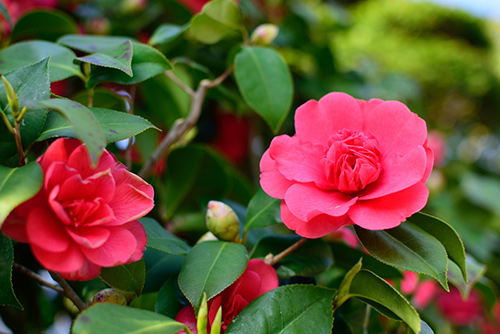 What a wonderful winter-blooming evergreen shrub for the part shaded gardens. Camellia sasanqua tends to grow 6 to 10 feet high and wide. There are many varieties of sasanqua ranging in color from white to red to various shades of pink in both single flower form and double flower form. Some of my more favorite varieties are Yuletide, Hana Jiman, Winter Star, Bonanza, and others. Camellia sasanqua will form their flower buds starting in late summer to early fall. Know the growing dimensions and plant accordingly. When planted in the right location and given the proper spacing then I recommend very little pruning in order to not interfere with its natural growth habit.
CORYLUS avellana "Contorta'
Often referred to as Harry Lauder's Walkingstick. What a unique plant that I appreciate more in the winter when it has no leaves than any other time of the year. In the winter it shows off its stems that are curled and twisted. Be sure to plant in sun to only partial shade and it grows to become a large shrub or small tree. Harry Lauder's Walkingstick branches can be pruned to be used in flower arranging.
ILEX verticulata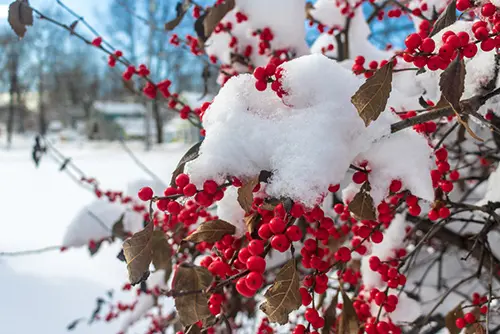 Often referred to as Winterberry. Ilex verticulata is a deciduous holly (not an evergreen holly) and will shed its leaves in late fall that will show off its red berries in the winter. And all these red berries will help support our bird population. One important thing to remember is that Ilex verticulata are either male plants or female plants. Both will have small white flowers in the spring. But, it is only the female varieties that will form the berries. You can plant just one male winterberry and have it surrounded by the female shrub. Some of the more popular female varieties are Sparkleberry and Winter Red.  The popular male pollinators are Apollo or Southern Gentleman.
NANDINA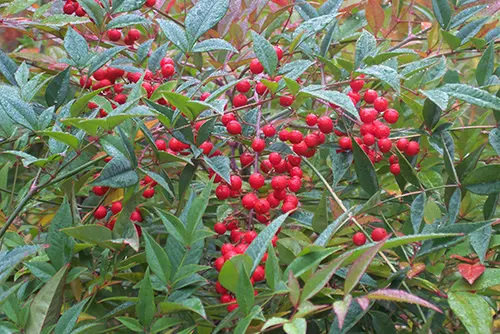 So many wonderful varieties. These evergreen plants can be one of the dwarf varieties or the taller Nandina Domestica "Heavenly bamboo." The Nandina Domestica is the one that will get to be 6' to 8' tall with multiple stems and will have large clusters of red berries. These red berry clusters make excellent cuttings to use during the holidays. Other varieties of nandina include Gulf Stream, Fire Power, Flirt, and Obsession. All love the sun and are have great fall and winter leaf color.
CORNUS sericea
Better known to most as 'Redosier dogwood' or 'Blood twig dogwood'. They are absolutely stunning in the winter, especially when we get some snow and you see these bright, red stems sticking up in the landscape. These dogwood shrubs can grow to be 6' to 10' tall and wide and are more tolerant of wet soils.
A couple more varieties of shrubs that are great for having winter interest include: MAHONIA, CALLACARPA, ILLICIUM, and YUCCA 'Color guard'.
PLANT A LITTLE HAPPINESS