IT'S A DIVERSE FAMILY THAT LEADS TO CONFUSION
Whenever you stop into the garden center or call and talk to me or any other plant specialist and ask "Do you have Hibiscus" – you usually end up getting two or three questions back at you trying to figure out what type you are inquiring about. You are in good company. Many people do not realize that there are so many varieties of hibiscus.
When I say there are many varieties, I am referring to species varieties. Hibiscus is a genus of flowering plants in the mallow family. The genus is quite large. There are the hardy shrub and tree-form varieties, there is the hardy perennial varieties, and there is the tropical variety. As a matter of fact, The National Garden Bureau has declared 2021 as the "Year of the Hardy Hibiscus."
Here is my attempt to explain the differences.
CHINESE HIBISCUS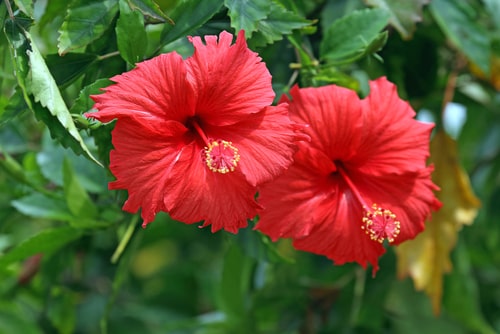 Chinese hibiscus is a tropical plant – meaning that it is not hardy enough to live in our region outside year-round. When thinking of hibiscus, we, of course, picture the brilliant and colorful tropical ones each spring. People love the large yellow, orange, red, pink flowers on the shrub or tree. Homeowners love to use the Chinese form in containers to sit around on the deck, patio, or around the pool. When cared for properly, the Chinese variety will bloom continuously throughout the summer. The Chinese hibiscus is USDA hardiness zones of 9 to 12 (we are zone 7 in Central Virginia).
HIBISCUS SYRIACUS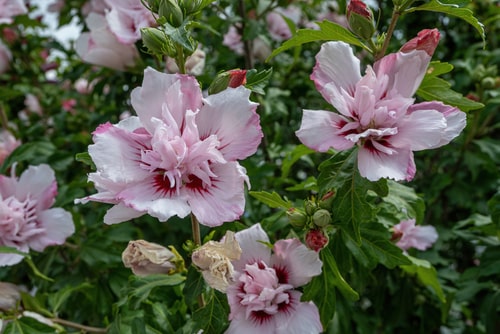 This is the type of hibiscus that grows into a large shrub or small tree. Some customers will come in and ask for either the Rose of Sharon or the Althea. Rose of Sharon and Althea are one and the same. The Rose of Sharon is a beautiful, deciduous shrub that thrives in the heat. They bloom off of new growth. The Rose of Sharon will thrive in a wide hardiness range of USDA zones 5 to 9 (again, we are zone 7). Rose of Sharon is a late spring /summer bloomer and is a woody plant and blooms on the same structure each year, rather than dying back to the ground.
PERENNIAL HIBISCUS
This family type of hibiscus is a show stopper, in my opinion, when in full bloom. This hardy type dies back to the ground each year and then doesn't emerge until late spring when we begin to warm up on a regular basis. Once they break dormancy and grow, they are fast growers. I loved my Lord Baltimore with its large, dinner plate size red blooms. Over the years new and better varieties have been created, giving the hardy perennial hibiscus a lot of attention in the landscape.
In general, I think hibiscus – whether it's hardy, shrub, or tropical – is a showpiece in any garden or landscape. They seem to be easy to maintain. Regardless of the types, they support the pollinator population – especially our hummingbirds.
So, come and get them. We have them all.