I'M HAVING A HARD TIME LIMITING MY FAVORITE PERENNIALS FOR A SHADY YARD
Last month our nursery plant expert, Nick Atkinson, gave a very informative seminar on plants to use in a shady backyard. Bottom line, a shady yard can be a beautiful yard when using the right plants for the right location. Hardy, shade-loving perennials can add color and texture in lower light conditions in your landscape.
You may be wondering, what constitutes shade versus partial shade? In most situations, a full shade location is considered to have four or fewer hours of direct sunlight. Partial shade is an area that gets filtered sunlight off and on throughout the day or about six hours of direct sunlight. Just keep in mind that, here in Central Virginia, the afternoon sun, especially in the summer, is much more intense than the morning sun, and many shade-loving perennials can tolerate some direct morning sunlight.
HERE ARE MY TOP 5 FAVORITE PERENNIALS FOR THE SHADE
HEUCHERA
Also known as Coral Bells. I listed Heuchera first because it is my favorite. There are so many beautiful varieties with colorful foliage ranging from green, chartreuse, red, and purple. They also all have flowers! But, the most significant characteristic of Heuchera is the fact that it is an evergreen perennial. So, being evergreen, they will give you color and texture year-round.
FERNS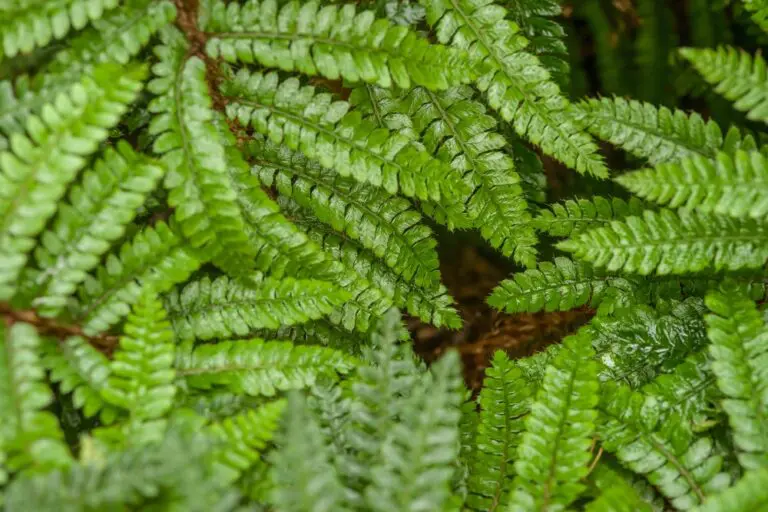 I love evergreen ferns such as Autumn Brilliance, Tassel,  and Christmas. I have had Autumn Brilliance for years because I love the leaf texture that it can give to a shady spot. And, like Heuchera, Autumn Brilliance is an evergreen fern. And, ferns are considered deer-resistant.
HELLEBORE
Also known as Lenton Rose. My love for Hellebores comes from the fact that they bloom during the winter and very early spring. There are not too many plants that will bloom during this time period. but Hellebores do. Hellebores are evergreen and are both a vole and deer-resistant perennial. Every year there are more and more new varieties being introduced to the market.
ASTILBE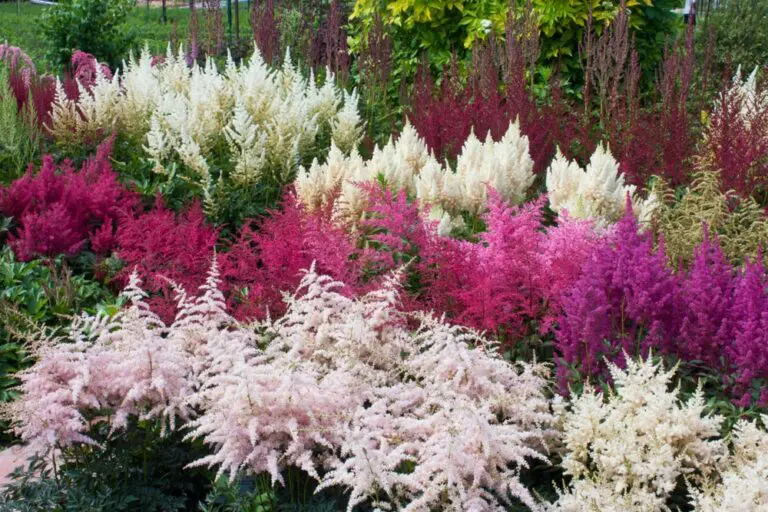 Astilbes are a beautiful, very hardy, shade-loving perennial. Astilbe is sometimes called False Spiraea. They prefer a rich, organic compost soil to ensure good drainage. Astilbe blooms in late spring to early summer with feathery flowers in the colors of red, purple, white, and pink. They can grow to be 1 to 3 feet tall. Astilbes are deer-resistant because of the slight fragrance. The flowers do attract birds to the garden. And, Astilbes can be grown as a container perennial.
CAREX
Carex is an ornamental grass. Sometimes referred to as Sedge. It comes in different colors and growing characteristics. Carex varieties are great to use for edging, for texture, for edging in front of a shady garden. Carex is considered a semi-evergreen perennial. And, it is great to use with container gardens.
HERE ARE SOME OTHER SHADE LOVING PERENNIALS THAT MADE MY "HONORABLE MENTION" LIST
LAMIUM  –  Especially 'White Nancy'
PULMONARIA  –  "Lungwort"
POET'S LAUREL
SOLOMON SEAL
GERANIUM 'Cransbill'
HOSTA
HAPPY SPRING EVERYONE AND PLANT A LITTLE HAPPINESS!!!!!!!!!!