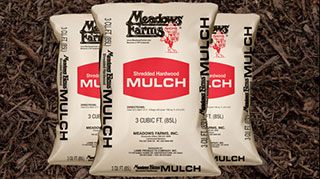 Perfect for athletic departments, booster clubs, churches, Scouts, etc.!
If you are within 20 miles of a Meadows Farms Garden Center we can help you set up a mulch fundraiser.
Meadows Farms Premium Shredded Hardwood Mulch is clean and environmentally safe!
MOST HOMEOWNERS USE MULCH and 3cu. ft. mulch bags are easy to work with!
Choose a date in early spring to get a jump on the competition! A Saturday in March will probably work best.
Determine what price you will be selling your mulch for.
Immediately begin promoting your fundraiser within your group or organization, and begin distributing your flyers. (A sample flyer is available. We can also email it to you as a Word attachment, so that you can customize it with your logo and information!)
Find a place where you can have your mulch delivered (a school, church, or parking lot for example) and with enough room for customers to pull up and get loaded.
You will need to line up a forklift or loader capable of handling around 2400 pounds. (You may have a source for this, If not we can help you locate the equipment)
Determine whether or not you will deliver your mulch. If so, you will need to line up pickup trucks, a driver and crew for each truck. You will also need to map out your delivery routes once all your orders are in.
Mulch is sold by the truckload – 18 pallets of 45 bags each. You will need to order in multiples of 810. Your payment to Meadows Farms will be due within 7 days of mulch delivery.
For information, email [email protected]