Mosquito & Tick Control for Northern Virginia

Guaranteed to Eliminate Mosquitoes & Ticks
Mosquito Shield of Dulles provides mosquito and tick control for residential and commercial properties throughout Northern Virginia. Offered as a seasonal service, or as a one-time application for weddings, parties and other outdoor events, our patented Mosquito Protection Blend™ both eliminates and repels insects, while creating a vertical barrier around your property that strengthens with each application.
Our integrated approach to mosquito and tick control is so effective that we offer a 100% money back guarantee. If you're not completely satisfied after your first seasonal spray, we will re-spray at no additional cost to you, or refund 100% of your money.

Mosquito Shield
Enjoy a mosquito-free spring, summer and fall with our seasonal mosquito control programs. Uniquely engineered to both eliminate and repel insects, our patented Mosquito Protection Blend™ is applied every 10-17 days between April and October to provide full season coverage.
Tick Shield
Protect your family, pets and property with a seasonal tick control program. Our professionally trained technicians treat your property every 60 days between March and October, using a patented blend of all-natural oils and ingredients similar to those found in pet flea & tick treatments.

Event Shield
Don't let mosquitoes crash your party! A single application of our patented treatment blend offers effective mosquito and tick control for special events. An ideal solution for weddings, graduations, birthdays and outdoor gatherings for Memorial Day, Fourth of July and Labor Day.
How It Works
Our trained technicians apply a barrier treatment every two weeks, which adheres to foliage, wood, stone, brick and other organic materials, creating a vertical barrier that strengthens with each application.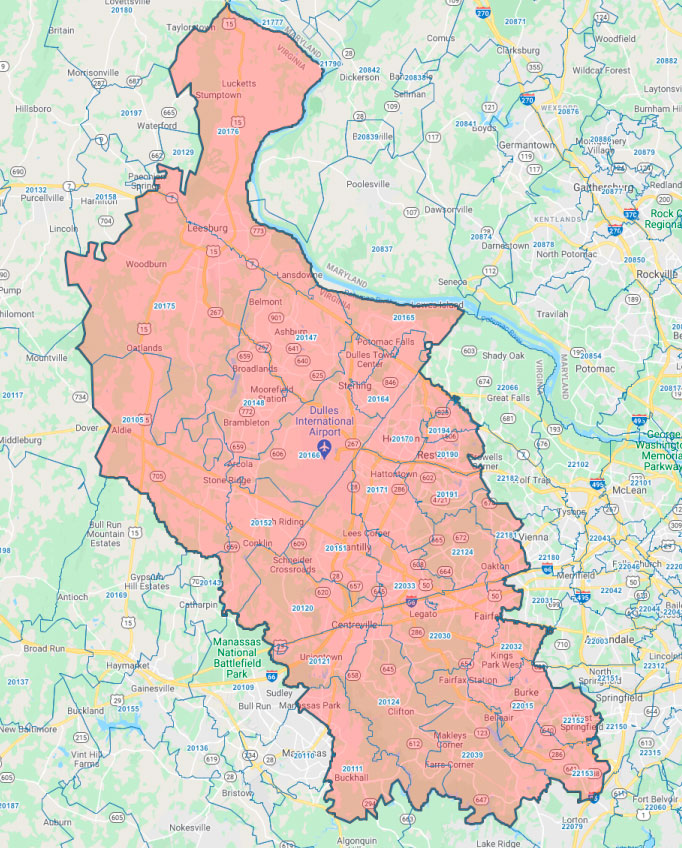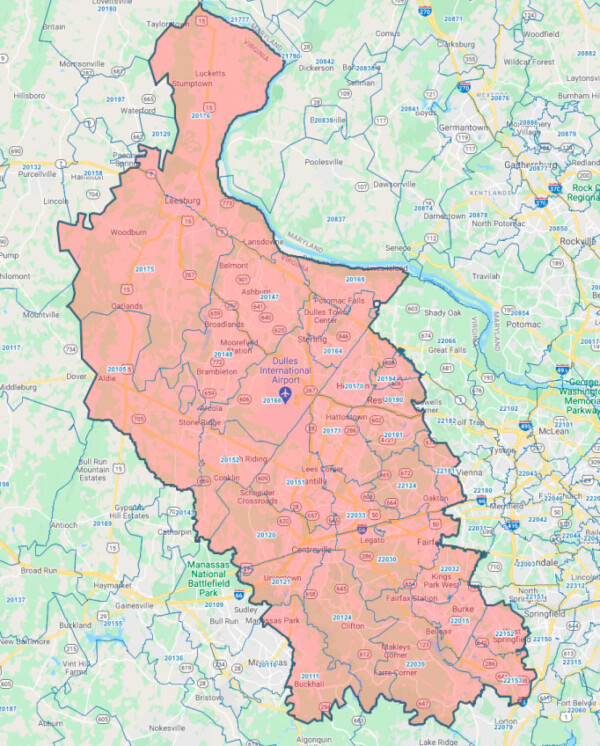 Our Service Area
Mosquito Shield of Dulles provides mosquito and tick control throughout Fairfax, Loudoun, Arlington & Prince William Counties. Our service area is expanding by the day! If you don't see your city or town listed, give us a call at 571-370-9800.
Aldie
Arcola
Ashburn
Ashburn Junction
Belleair
Belmont
Blevinstown
Brambleton
Broadlands
Buckhall
Bull Run
Burke
Centreville
Chantilly
Clarks Gap
Clifton
Comptons Corner
Conklin
Donovans Corner
Dulles
Fair Oaks
Fairfax
Farrs Corner
Floris
Gilberts Corner
Hattontown
Herndon
Ivakota
Landsdowne
Lees Corner
Leesburg
Legato
Lenah
Lewis Park
Loch Lomond
Lorton
Lovettsville
Lucketts
Makleys Corner
Manassas Park
Middleburg
Newington
Oak Grove
Oak Hill
Oakton
Oatlands
Potomac Falls
Reston
Schneider
Crossroads
South Riding
Southbridge
Sprint
Sterling
Stone Ridge
Stumptown
Uniontown
Virts Corner
Watson
Waxpool
West Springfield
Wolf Trap
Woodburn
Yorkshire
What Our Customers are Saying
We have used other pest companies in the past, but none have had much effect on the bugs, specifically mosquitos. Mosquito Shield significantly reduced the mosquitoes around our house almost immediately!!
Get In Touch with Us for Your Mosquito & Tick Control Needs
Brendan O'Toole & Jay Meadows
43054 John Mosby Hwy Chantilly, VA 20152

"*" indicates required fields