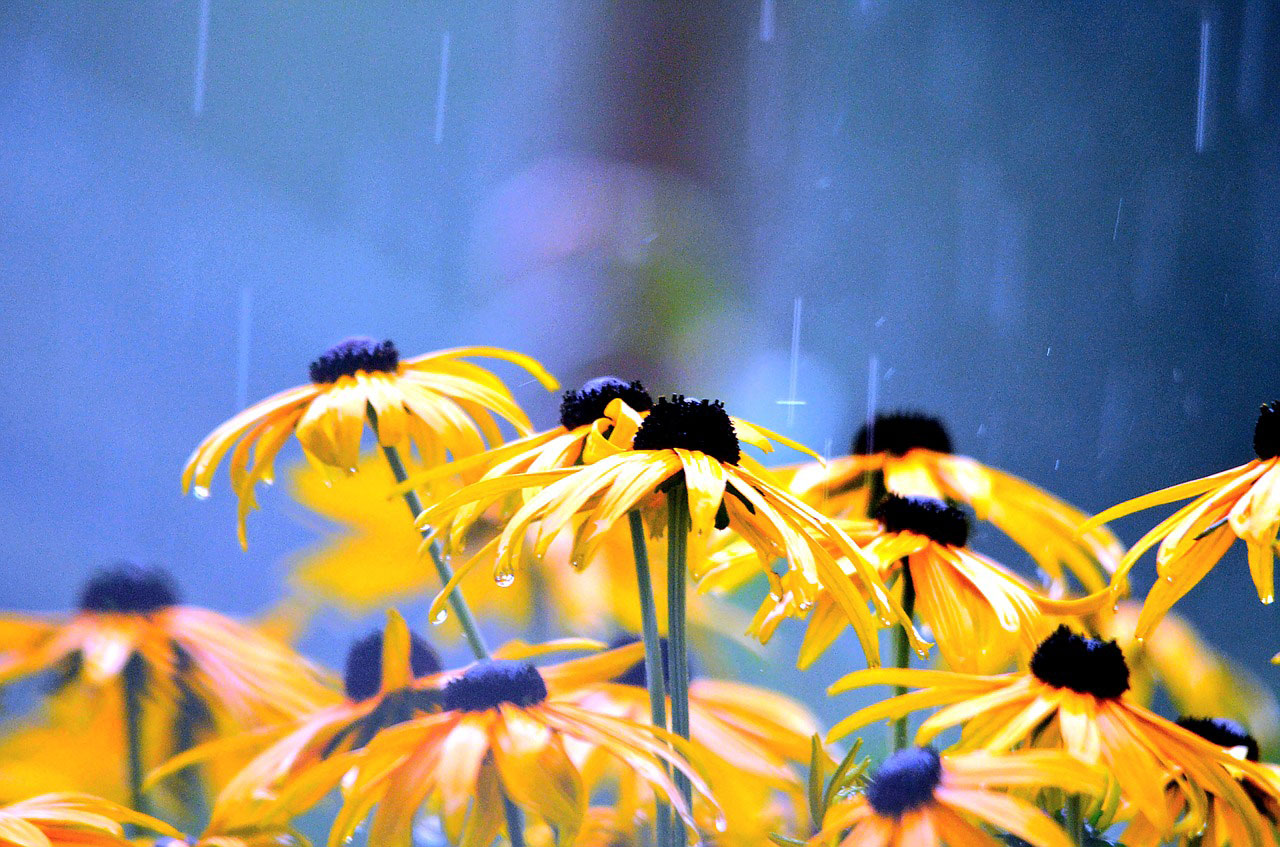 By: Designer Jennifer Whalley
Rain gardening is not a new term for planting in the rain, but instead the latest craze in the landscape industry. It's the creation of beautiful backyard gardens that have the added bonus of improving our environment and our water quality. Interested? Please, read on.
A rain garden is a landscape system filled with native plants that captures run off from sloped and hard surfaces. Designed as a marsh like area, it encourages on site water filtration and less water runoff. With all the bulldozing, leveling, asphalt pouring and acres of lawn in our communities, water pours off and runs in ever increasing concentrations. It pollutes our rivers and ponds. It flood are neighborhoods. It erodes our properties. By embracing water for our enjoyment and benefit, rain gardens can change the way we have always moved water through our communities.
The creation of this type of system starts by getting dirty. You'll need to dig a large depressed area at least ten feet downhill from your home's downspout. A typical residential rain garden ranges from 100 – 300 square feet. The actual depth is determined based on soil type and amount of water flowing through the system. You'll need to add a berm on the downhill side to trap the water. Don't take the easy way out! Forget about using that one area the builder saddled you with that holds water forever. Remember, this garden is an environmental drain. This drain's purpose is to filter and clean water of pollutants by not ponding, but pulling water through a dense mat of plant material and roots.
So you guessed it, the next step is planting. Plant potted material, not seeds, so roots can do their thing right away. Plant heavy so weed growth is discouraged through more shade and root competition. And yes, plant natives because they thrive without fertilizers and pesticides, they actually like our crappy soil and they'll withstand conditions alternating between soggy wet and dry as a bone. Make sure to use a variety of perennials, grasses, sedges and ferns so your garden isn't mistaken for a developer's ugly drainage solution, but will be enjoyed as the beautiful and well loved garden that it is.
Long after you're dirty and tired, you will be the only one to know, that behind the beauty, wonderful work is being done!