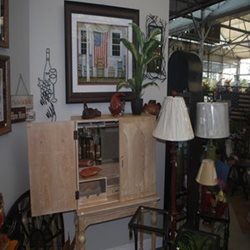 Did you know The Great Big Greenhouse and Meadows Farms has a large selection of gifts and home décor selections? This along with our tremendous foliage selection allows you to dress up the inside of the house as well as your outdoor living space.
Unique international imports and charming local crafts are searched out and brought in from all over the world. We look for unique and unusual items that you can use to give your home that "one of a kind" look. Our buyers go to many shows and shop till they drop to make your selection hard to pass up.
Seasonal selections are available for theme decorating as well as everyday items such as frames, candles, furniture, lamps and much, much more. This makes The Great Big Greenhouse a great place to buy a gift for the special friend or for yourself.
If you haven't been by in a while, come in and check out the great selection of gifts and home décor we have on hand. It's perfect timing to brighten up your interior at prices that will not break the bank.
You will find hundreds of items in the following categories:
Flags / stands / hardware for ALL seasons, holidays and occasions
Gazing globes / stands / holders
Birdbaths / feeders / houses
Fairy Gardening / Miniature Gardening accessories
Wall Décor and Signs