As the spring gets underway we are still constantly receiving plant material to serve your gardening needs. Here are a few things we're receiving this week and a few plant varieties that are coming into their own this week and just need a new home.
Scheduled to Arrive This Week
Assorted Blueberries
There's nothing sweeter than fresh blueberries in season. Now's your chance to try fresh blueberries in your own garden. This week we're receiving a special purchase of 1-gallon containers of blueberry bushes that will retail for only $5.99. Supplies will be limited so be sure to get in and get yours while supplies last.
Traditional Azaleas
Azaleas are the most popular flowering shrub in this part of the country. It's no wonder why, as these showoffs not only display a gorgeous tapestry of color throughout the spring season, but serve very well as an evergreen hedge, adding form to your landscape. They're also hardy enough to withstand the fluctuations in temperatures that make our winters so harsh on plants. This week we're receiving the first of many shipments of traditional azaleas. We keep a huge selection of traditional varieties in seemingly endless colors of whites, pinks, purples, reds, and mixed shades. Available in 2 and 3-gallon containers.
Looking Good This Week
Popular for their showy chains of bell-shaped flowers and colorful shades of newly emerging foliage, Pieris japonica (Japanese Andromeda) is a tremendous addition to any landscape. These broadleaf evergreens can handle sun to part-shade, and they make a great deer-resistant hedge or accent plant. There are many varieties to choose from at Meadows Farms. One of our personal favorites is the Pieris 'Mountain Fire,' whose new foliage emerges as a rich shade of red to complement its white flowers.
One of the early rhododendrons to bloom, our PJMs are just starting to crack color and are waiting for a good home. PJM rhododendrons are a great two season choice for color in your landscape. They begin the season with clusters of lightly-scented purple-pink flowers in the spring and end the season with a stunning show of purple foliage in the fall. A truly outstanding plant!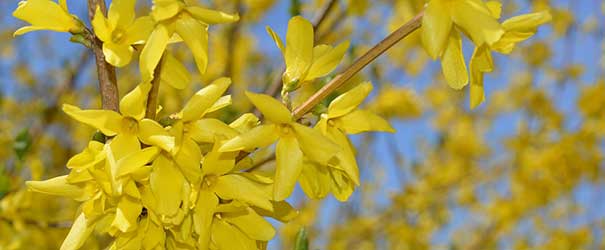 You know spring is here when these yellow-blooming beauties start showing off, and ours are cracking color now. Forsythias are covered in golden-yellow flowers throughout the early spring, and the flowers are excellent for cutting and bringing indoors. Be sure to get in and grab a few for yourself while they're in bloom.