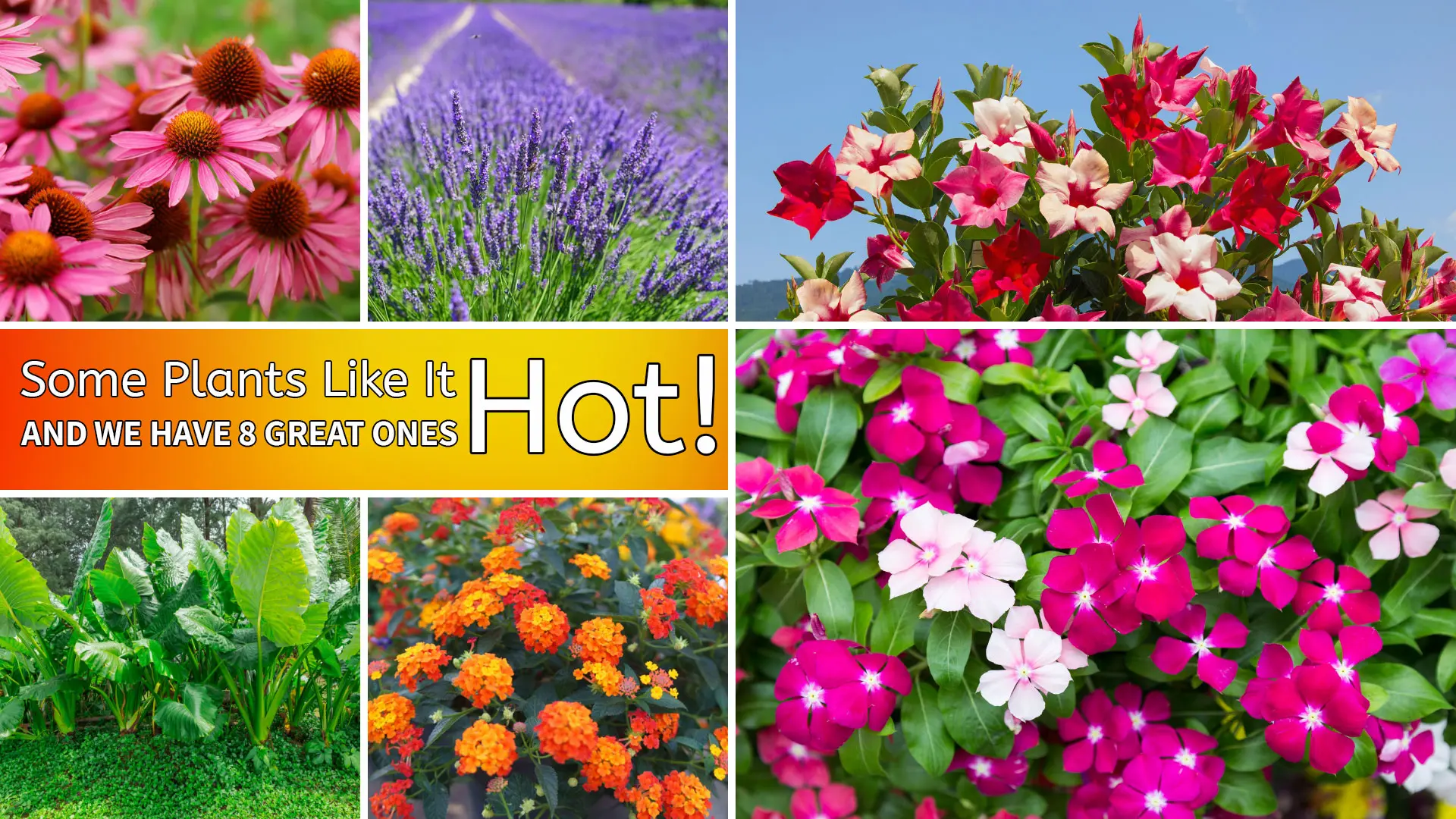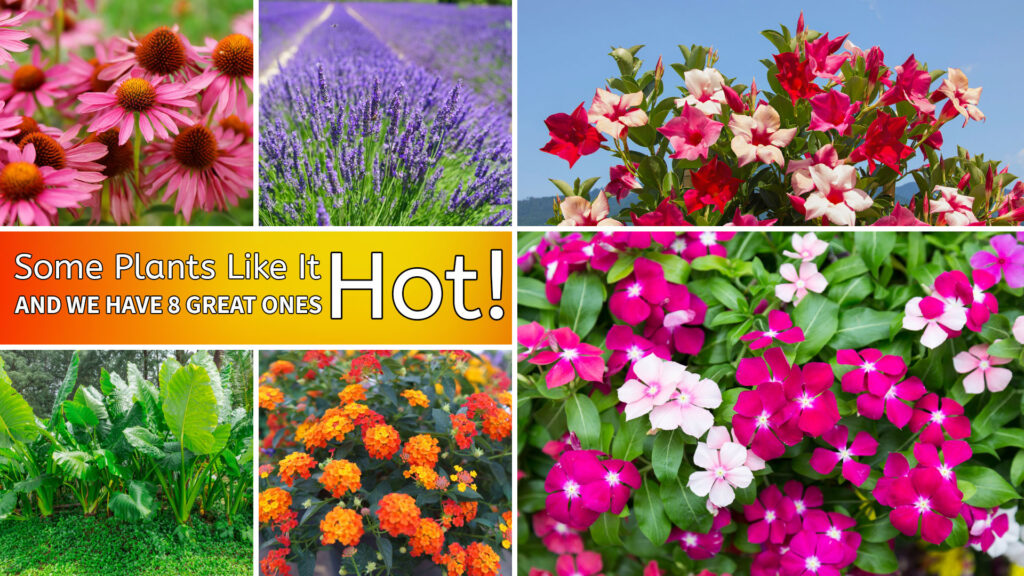 As the summer heat continues its hold over our area, you may notice some of your spring plantings beginning to wilt, droop, and look sad. Unfortunately, many plants cannot handle the intense heat of our summers. Fortunately, there are many plants that not only tolerate but love the hot weather. Below are eight different plants that you can find right now at your local Meadows Farms nursery.
Flowering Vinca

Flowering vinca is one of the premier flowering bedding plants for sunny, hot areas. Vinca is drought-tolerant and can thrive in any soil provided that it is well-draining. Vince is also a low-maintenance plant, so they are perfect for the gardener who does not have a lot of time to spend in the garden. Vince comes in many shades of pinks, mauves, and whites and blooms abundantly throughout the summer.
Lantana
Lantana is a showy, drought-tolerant woody annual with clusters of beautiful flowers that come in mixed shades of yellow, orange, red, pink, and purple. They work well in borders or mass plantings, and their trailing habit makes them prime candidates for hanging baskets or your favorite patio container. Lantana loves the heat, so plant them in well-draining soil and keep them watered regularly during the hottest days.
Lavender
If the soothing fragrance isn't enough to convince you of the value of lavender in the landscape, perhaps its ease of maintenance will. Hardy perennial lavender is easy to grow and thrives in high heat conditions provided you plant it in well-draining soil. Because of the scent, lavender is also quite pest-resistant, and its blooms are a perfect attraction for pollinators like honey bees and butterflies.
Tropical Hibiscus & Mandevilla

Transform your patio into an oasis of color by adding pots of blooming tropical annuals like Hibiscus or Mandevilla vines. Fill a few ceramic pots with several of these blooming beauties and your patio will become an outdoor living room. These tropicals love the hot sun, but make sure they get ample water to keep them looking their best. We carry each in an array of colors which will provide an incredible show from now until the cold nights of October.
Ornamental Grasses

Ornamental grasses are available in a wide array of colors, shapes, textures, and sizes. The flowers and subsequent seed heads are equally diverse, ranging from "ho-hum" to genuinely spectacular. Most ornamental grasses thrive in the hot, full sun. Many varieties are quite drought-tolerant, though a few can handle wet areas as well. Their adaptability and subtle beauty make them perfect companions to flowering plants and other woody ornamentals.
Coneflowers
Coneflowers are a native perennial to North America and have been a staple plant dating as far back as the Native Americans. However, it wasn't until recently that coneflowers have been making a resurgence in home gardens. Once only pale pink, coneflowers are now available in a multitude of different varieties that provide a summer seasons' worth of color year after year. They are also great plants to attract pollinators. Bees, butterflies, and birds love hanging around the large blooms.
Elephant Ears
Native to the warm and humid climate of tropical Southeast Asia, elephant ears are a showstopper in the garden. Varieties of elephant ears can reach anywhere from 6 to 10 feet in height, with massive sized leaves that give them their name. While Elephant Ears enjoy the hot and humid weather from our summers, they don't enjoy direct sunlight. A shaded area or one that contains filtered sunlight is an ideal place to plant them.
SunPatiens
Have you ever wanted the elegant beauty of flowering impatiens or New Guinea impatiens, but the sun in your garden makes it impossible? SunPatiens are for you! SunPatiens have the same look of classic New Guinea impatiens but are grown with stronger foliage and thicker bloom petals to withstand high heat, sun, and disease. They make a great addition to any summer flower bed.