Is mid January too early to be impatient for spring? In fact, I don't wish to scoot the calendar forward, but anxiously await milder temperatures after several weeks of cold that has dragged on far too long.
Winter flowers are a partial remedy for seemingly interminable winters, but many blooms curl for protection as temperatures approach zero, so too little color is evident until milder weather returns. I hope that's on the way, at least that's what forecasters promise. Another blast of cold, or two, will not be surprising, but with temperatures in the forties and even fifties expected, there should be enough scattered flowers to keep me relatively sane.
Some years there are big plans for spring, and others nothing, and probably this year is somewhere in between. I'm planning to add a few daphnes, though it's unclear where sunny spots for them will be found. Hybrid daphnes (Daphne x transatlantica 'Summer Ice', above) have performed wonderfully in recent years, with the only unsatisfactory results being in a bit too much shade. Otherwise, they're quite cold hardy, not, or at least less finicky than other daphnes, and there are waves of fragrant blooms from late March into November. I'll find a spot.
The damp area behind the shed continues to be a bit of an issue. Red chokeberries (Aronia arbutifolia, above) have continually been stunted by deer (too often I miss these with the repellent), but after several years I'm hoping that well established roots will give the shrubs a chance to get ahead. Without big, bushy chokeberries, the area is a bit sparse, so I'm considering adding a few Virginia sweetspires (Itea virginica 'Henry's Garnet', below). Probably, this is a shrub or two too many, but that's someday, and I'll be happier with more than less right up to the day when I have to chop one or the other out.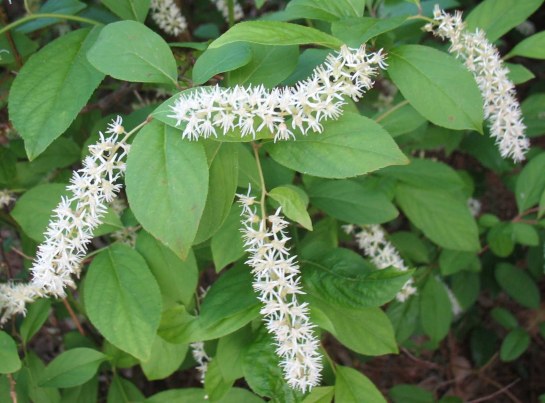 Particularly in this wet spot, I won't mind if it becomes a bit overgrown. Certainly, it won't be the only area in the garden where one shrub grows into another. Occasionally, one or the other suffers, and a time or two something must be moved or chopped out, but most often one thing blends into the other without much of an issue. At least, it's not an issue to me.
In the same general area I've decided that an under performing parrotia (Parrotia persica, autumn foliage above) is too shaded. I think I've figured a spot where I can move it that gets most of a day's sun, which will also will help shade variegated and yellow leafed Japanese maples nearby that will do a whole lot better with a break from the summer sun. If the cold weather breaks, it's possible I could get this done sometime in February, and perhaps I can also skim off the grass to enlarge the planting bed to accommodate the few tree peonies and perennials I've ordered. And, there must be space for another fothergilla (Fothergilla 'Mt. Airy', below). Two others are kind of hidden away at the edges of the garden, so I need one that is more conspicuous.
There's a spot in the side yard, close to the driveway, where a pendulous spruce is not making it, and this seems a perfect spot to plant one of the smaller growing, upright Japanese maples (Acer palmatum 'Higasayama', below) that I potted last year. A few grew vigorously in containers on the patios, and this location is close to a path, so I must be certain the one I plant won't overgrow.
No doubt, there will be other additions when new deliveries begin to arrive at the garden centers. While space in this long established garden is limited, room for new treasures can always be found.