The vagaries of weather seldom stray from the gardener's thoughts, and sometimes inhabit his restless sleep. January is often discomforting, bundling against the chill, but also with apprehension that survival of treasures exposed in the garden is beyond his control.

Winter Sun mahonia began flowering early in November. While flowers have been effected by near zero temperatures, some color remains in mid January.
The return of milder temperatures in recent days was most welcome after a two week spell of cold, though the change is temporary with another chill on the way. Nighttime lows were not exceptionally cold (zero degrees is the typical winter low for most of our area), but the extended stretch of temperatures below freezing was unusual, and it could be weeks before damage in the garden can be assessed.

Minor damage to leaves can be seen on the variegated winter daphne.
To the best of my recollection, cold injury to winter daphnes (Daphne odora) and paperbushes (Edgeworthia chrysantha) was evident immediately following extreme cold in recent years. Today, there is only minor damage to foliage of winter daphnes (and no apparent injury to flower buds) and none to paperbushes, so I'm encouraged.

Cold days this week will delay flowering of Vernal witch hazels, but peak bloom will resume next week.
Flowers of winter blooming mahonias (Mahonia x media) and Vernal witch hazels (Hamamelis vernalis) curled for protection in the cold, along with flowers of snowdrops (Galanthus) emerging through the leaf clutter. All have reopened with mild temperatures, though a chilly breeze portends little color for the coming week.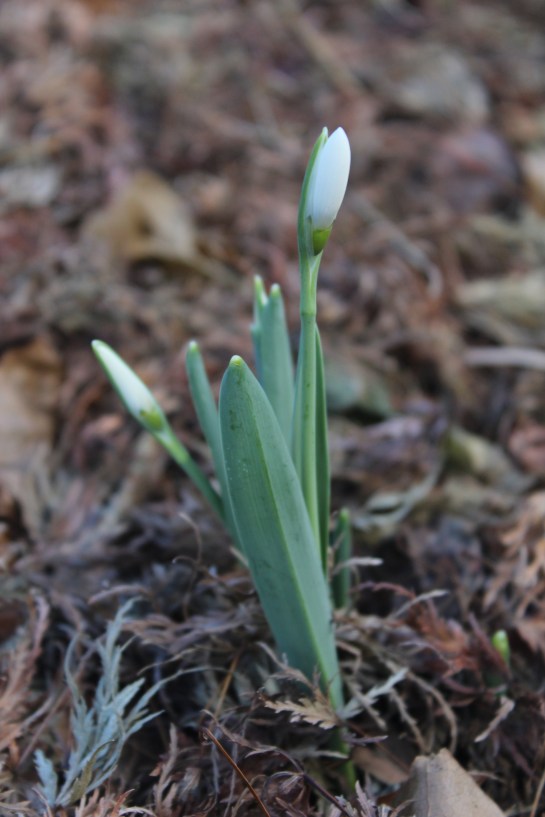 Several clumps of snowdrop have pushed through the cover of leaves.
Happily, I did not remove the cover of fallen Japanese maple leaves from snowdrops, so I expect no damage and the likelihood that flowering of early types will resume. In a fit of motivation (very brief), deep piles of leaves covering hellebores (Helleborus) along the forest's edge were removed a few weeks ago. While the freeze delayed early flowering, no damage is expected and it appears that swollen buds will open in the next few weeks, with a single flower this afternoon.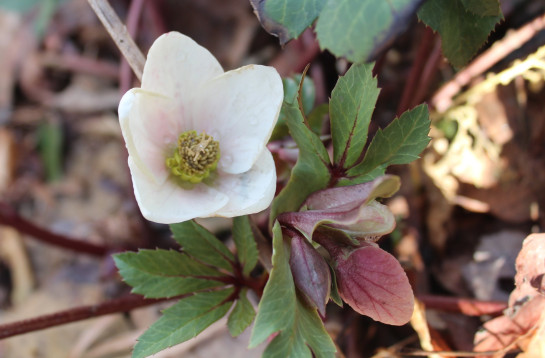 A single hellebore flower is open, with fat buds that will open when slightly milder temperatures return next week.