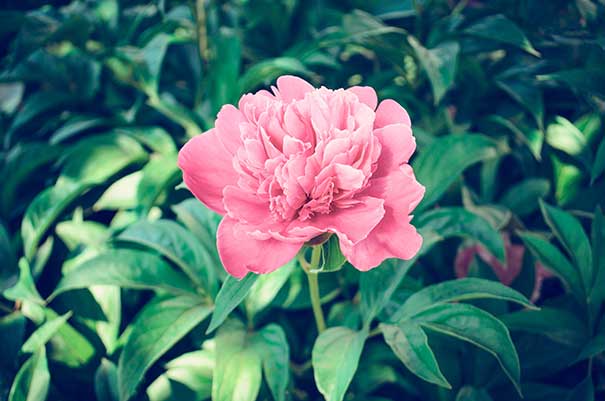 The peony plant is considered an herbaceous perennial (dying back to the ground each winter and emerging in the spring). There are woody types of peonies called Tree Peonies as well.
The perennial Peony bears attractive glossy green foliage that typically grows to about 3' in height with a similar spread, but their popularity is due mainly to their flowers. The striking peony flowers are highly fragrant with massive double blooms usually pink, red or white. Peony plants bloom in late spring or early summer and are indigenous to China, Europe and the Western United States, but do extremely well in our area due to their cold and heat tolerance.
Peonies can be planted individually in the landscape to be a stand-out specimen plant, or planted in groups to form a hedge or background of color in the spring and the dark green foliage holds up well until the frost of late fall. It may be necessary to stake or cage your peony as it matures because the blooms are so prolific that the plant may struggle to hold up all that color.
As if stunning beauty and wonderful fragrance weren't enough, peony plants are also exceedingly long-lived. Peonies, unlike some other perennials, do not need to be divided on a regular basis. They actually don't like being disturbed. If you would like to divide your peonies, do so in the fall for best results.
Stop on by your local Meadows Farms to see our selection of two gallon and three gallon potted peonies.