Along with modest new plantings envisioned for spring, a few removals also are scheduled for some mild winter weekend. Two small trees have failed to survive, a small Japanese maple planted in the middle of a vigorous patch of Ostrich ferns, and a Golden Chain tree with pendulous branches (Laburnum x watereri 'Pendulum', below). Planting the Golden Chain was chancy from the start. The tree is ideally suited to a cooler environment, I think, and even with a part day's shade the heat of a Virginia summer was too much for it. A second tree survives in deeper shade, but there it barely flowers, so what's the point?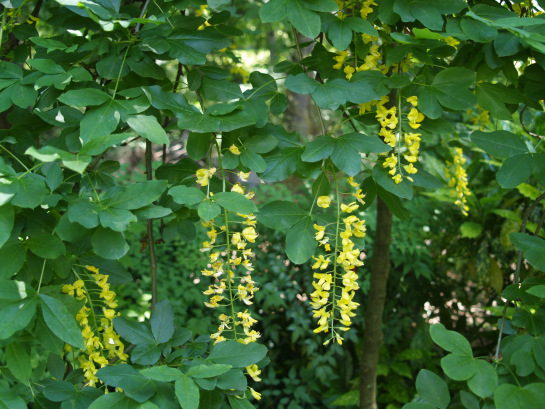 The Golden Chain tree on the right has declined in health in recent year. I suppose that it will not tolerate the summer heat.
Both dead trees are in areas with established plantings, so it will be a simple matter to cut the trees at ground level without digging out roots. Possibly, something else could go back in these spots, but not immediately. A seedling leatherleaf mahonia (Mahonia bealei) is growing beneath the Golden Chain, so the space will not be bare, and I question if anything can be planted into the mass of Ostrich fern (below).

A small Japanese maple did not survive in the middle of this mass of Ostrich fern.
This is an appropriate time to distinguish between the Golden Chain and Golden Rain trees (Koelreuteria paniculata, below), with caution that the Golden Chain might not survive in Virginia, and a warning that Golden Rain is too vigorous. In fact, Golden Rain is probably fine planted with lawn surrounding it, but one in this garden is planted in a fully planted bed, and the number of seedlings that sprout each year is astounding. In sun or shade, seedlings grow. In open areas, or from under shrubs and perennials, hundreds, probably thousands of seedlings must be pulled each year. Certainly, the tree is splendid in flower, with pleasant foliage, though it has no autumn color of note, but you've been warned, there are choices that require far less work.
Two weeks past the last deep freeze, no damage is evident on paperbushes (Edgeworthia chrysantha) that have had troubles in the past, and there appears to be only minor injury to leaves of winter daphnes (Daphne odora 'Aureomarginata') in full sun. Another, in part shade, does not appear to have suffered any damage. Of course, this is wonderful news, though celebrations will be delayed with half of winter still in front of us.
If the choice is between ice or snow, or cold, I'll take precipitation any time. Rarely is there significant damage from accumulations of ice or snow, but there's little that can be done to protect against severe cold. So, expecting the worst is past, I'm overjoyed that there seems to be little to be concerned about. Rather than worrying about cold damage, I am anxious to get on with additions (and deletions) to the garden.