While many gardeners consider spring to be the prime gardening season, that is short-sighted. Fall is also an excellent time of year to do many important flower gardening tasks.
Dividing Perennials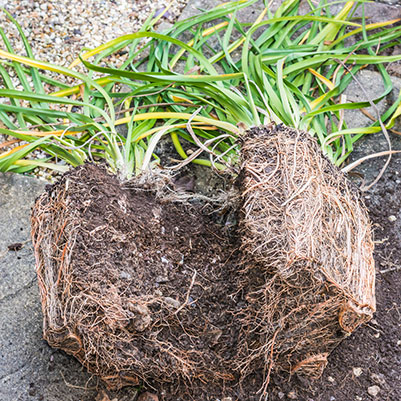 Among the most critical fall chores is splitting or dividing perennials. While many people divide their perennials in the spring, by doing it in the fall you are giving your plants ample time to reestablish their root systems throughout the fall, winter, and spring seasons ensuring that they are well prepared for the ensuing summer heat and drought.
There are many reasons why dividing perennials are advantageous to the gardener. Some perennial plants become woody in the center and lose vigor over time causing them to grow and bloom less. Division of these plants encourages vigorous new growth and better blooming in future seasons.
Dividing perennials also allows you to control the spread of large, clumping perennials into areas of the garden that you don't want them in. Finally, dividing perennials is the cheapest and easiest way to keep plants spread throughout your garden. A crop of well-established Hostas, Garden Phlox, or Black-eyed Susans can be easily divided and scattered throughout the garden, saving you money year after year.
Cutting Back Perennials
While our first instincts are to cut back perennials in preparation for the winter, you should think twice before reaching for the garden shears. Several varieties of perennials have beautiful forms and foliage in the wintertime, giving you an excellent focal point in your garden when everything else is barren.
If you're a bird lover, leaving your flowering perennials uncut through the winter may attract birds to your yard. Leftover seed heads are an excellent source of nourishment for birds, while the leftover foliage provides some cover for them to hide as needed.
If your perennials are marginally hardy varieties such as chrysanthemums or trailing verbena, leaving the old stems intact helps the plant to overwinter and survive into the following spring. Plus, if you cut back your perennials too much, it might be difficult to determine where they are when you're cleaning out your beds next spring. Don't accidentally dig up a perennial because you couldn't see where it was!
There are some instances where cutting back perennials may be beneficial. Any perennials you have that suffered through any sort of disease throughout the growing season should be cut back and the cuttings removed to help prevent spreading in future seasons. Perennials like Monarda, which deal with a common disease like powdery mildew, is a prime example of a perennial that could benefit from early cut back once it's finished for the season. When cutting any perennials back, it is best to leave two to three inches above the crown to help prevent any winter damage.