Labor Day marks the annual arrival of Dutch Flower Bulbs to Meadows Farms Nurseries. For centuries, gardeners have been digging and dropping bulbs into the ground to produce the fantastic colors of spring. While tulips and daffodils are the most popular varieties of flower bulbs, other favorites like crocuses, hyacinths, and allium are popping up more and more in local bulb beds.
When Should I Plant Bulbs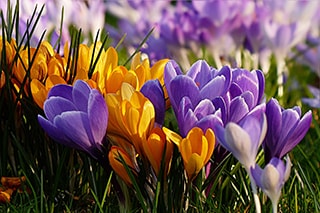 The best time to plant bulbs is after the first frost but prior to the ground freezing. The first frost in Northern VA usually occurs anywhere from late September to early November. It is wise to purchase bulbs early to get the best selection. Most spring-blooming bulbs arrive at local garden centers around Labor Day weekend, so waiting several months to purchase your favorite bulbs is not recommended if you want your favorites.
Never fear though, bulbs are very easy to store while you wait for the conditions to be right for planting. Keep them in a cool, dry place to prevent early sprouting or rot. A cool garage or basement area should be sufficient in our area.
Where Should I Plant Bulbs
A field of daffodil bulbsBulbs can be planted in almost any lighting exposure except for extreme shade. Filtered sunlight is fine for most varieties. Bulbs like well-drained soils, so avoid wet spots in your planting beds which if left unchecked could waterlog and rot your bulbs.
For an interesting, and colorful bed, inter-plant your bulbs with pansies to add good fall color while accentuating your spring color in your planting beds. Pansies are biennials, meaning they have two seasons, fall and spring before they go to seed. Using them now will provide good fall and winter color and will add to the color explosion in the spring when the tulips and daffodils bloomed.
When planting your bulbs, loosen the soil in your beds to a depth of 6-8″ while removing any weeds, rocks, and debris that might accumulate there. The rocky, clay soil in the D.C. area is not the best planting medium for any bulb, so add some organic compost such as Meadows Farms Planting Mix and a fertilizer like Espoma Bulb-Tone or Bone Meal to help encourage growth. Be sure to plant your bulbs with the pointed side up towards the sky.
The Care of Bulbs
In the spring the stalks of old flowers should be cut back. Leave the foliage of the bulb until it dies back naturally to encourage the plant to store energy for the next season. You can fertilize with Espoma Bulb-Tone or Bone Meal again while the bulbs are storing. Fall bulbs do not need to be removed during the summer, though you should be ever-vigilant towards critters like squirrels, chipmunks, and deer who won't hesitate to dig up your bulbs for food. Use Messina Environmental's wide range of animal repellents such as Deer Stopper or Squirrel Stopper to help deter them.
With a little bit of effort and investment, you can create a spring garden that would make any Dutch noble weep with envy. Come in and stock up on your flowering bulbs today!